Content Marketing and Content Strategy
Great content and content marketing is vital in growing your business online. What do we mean by content? Anything that can be consumed online, such as the written word, images, pictures, infographics, audio and video. By understanding your target market, and creating useful information for them, it helps both acquire new customers and also retain existing customers.
Content marketing is the online art of communicating with your customers and prospects without selling. It is the opposite of interruption marketing (such as leaflets or posters) and compliments search optimisation very well.
Instead of pitching your products or services, you are delivering information that makes your buyer more intelligent, helps them in some way, or moves them emotionally.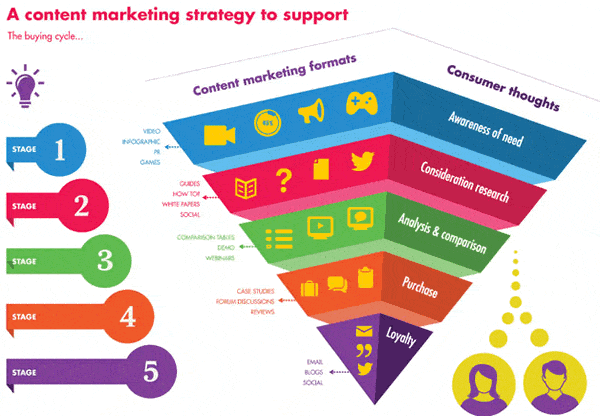 Naturally build your authority
By creating and sharing useful content for your target audience you can boost your online business objectives. Search engines also reward brands that create useful, high-quality content that educates or entertains. By creating such content you will naturally build links over time to your website, helping boost your website authority for your target position, and in turn driving traffic.
Why do people share?
When people share content, they share it because it reflects something about themselves. Great content helps solve frustrations, appeal to a customer's pride, clear up confusion, tug on heartstrings, or make people smile.
The foundation of a good content marketing strategy is the belief that if you, as businesses, deliver consistent, ongoing valuable information to buyers, they will ultimately reward you with their business and loyalty.
Creating a content marketing strategy
We will help define and deliver a content strategy for your business which will include reviewing your competitive marketplace, analysing your existing assets, defining your brand angle, creating a content plan, and producing the high quality content. No matter your industry, we are experts at getting to know your business and the things that will interest potential customers.
By building a content strategy you will create a long term plan that over time will deliver compounded returns. We'll spend as much time promoting your content as creating it. We'll reach out to our network of bloggers, media contacts, and social media mavens to help your work get the justice it deserves. We'll work with you to create that plan that boosts your online traffic and customers.
Contact The SEO Works today to get a FREE analysis and proposal.